Hi All,
This is a Rodrigo Shopis Favino-sized oval hole for sale. Rodrigo made this guitar for me in 2011 and, as you can see/hear from the photos and video, it looks/sounds beautiful. The guitar is truly a sight to behold! It has a very old pliaged Sitka Spruce top, Indian Rosewood back and sides, Walnut neck/headstock with the original selmer neck joint, Ebony fingerboard, Miller tuners, and a Bilardi tailpiece.
Here's a video of Jeff Radaich playing the guitar: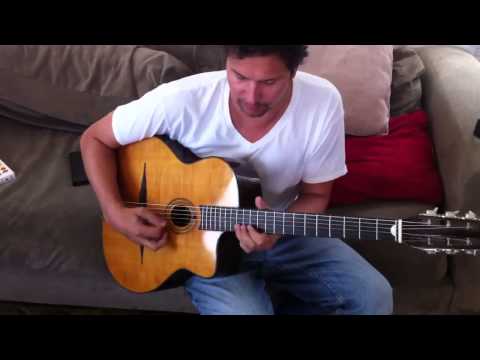 The guitar was recently gone over head-to-toe by Gonzalo Bergara's Los Angeles guitar tech and plays great with low action. If you like your action much different, Rodrigo was kind enough to give me a bridge blank that is included with the guitar, so you can get it dialed in just the way you like it. Cosmetically, the guitar is near perfect except two small dings that you can see in the gallery below.
A new Rodrigo Shopis goes for $3800 and comes with an 8 month wait. $3000 + actual shipping and insurance.
Here
http://imgur.com/a/Wl5eI
is a link to some photos.
Thanks for looking.