Hello,
I am considering putting up my cedar top Bob Holo Nouveau guitar up for possible trade. This guitar is simply the finest Manouche instrument I've ever played, and it simply excels in all jazz styles. This guitar is from 2010, and it features a 120 year old, incense cedar top. Michael Horowitz has commented on this guitar, calling it the "Weapon of Mass Destruction" around the shop. It has gained an even more authoritative voice over the years. The tone is complex and more of a modern take on the Selmer sound. For a more traditional voicing, look at his Traditional or Busato models.
The neck is walnut with a rosewood spline--there's no truss rod, as the neck is reinforced with carbon so it's eternally straight.
As I've stated in my write-up on the Guitar Archive, it is simply magnificent--superbly balanced, rich, lively/responsive, loud, and light at around 3.5 pounds. This instrument is full of projection and musicality. Bob Holo's guitars have a crystal clear quality throughout their whole register. I believe this particular instrument was played by Robin Nolan at Djangofest Northwest in 2010, and he was amazed.
Truthfully, these guitars rarely, if ever come up for sale. He makes very few of them. Mine is serial number 31. It was one of the first Model Nouveaus created.
I'm not in the market to sell outright at a cash price. The only instrument I'm looking for in particular is a Collings City Limits Jazz model.
Take a look at the photos and you can send me a message. There are a couple of sound files on my Soundcloud linked in the Guitar Archive.
Thanks,
Tim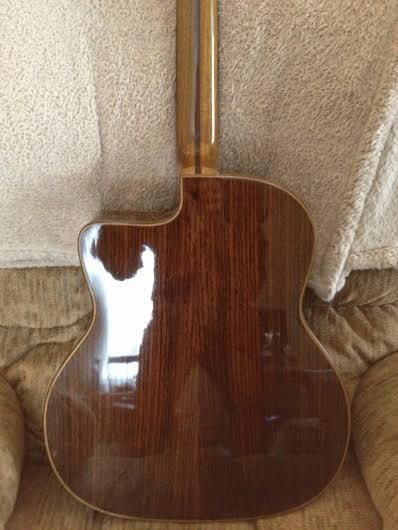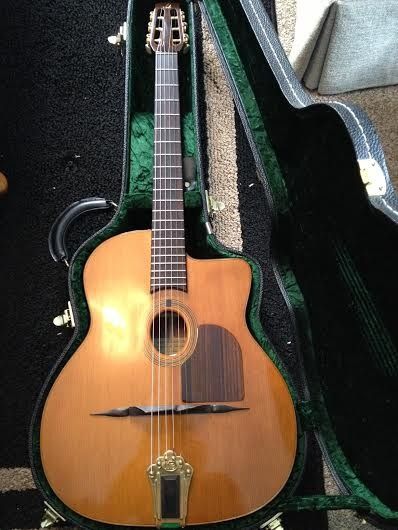 http://s665.photobucket.com/user/TPCima/library/?view=recent&page=1
Additional photos can be viewed in my Photobucket.