A quick look at django's Selmer 503 last sunday...
Hey everyone,
I'm lucky enough to live in ze place to be for ze gispy jazz lover, Paris... so I took a little trip to the museum sunday morning with my friend Jean barault and we frantically took pictures and films of ze holy grail itself, yes, django's own Selmer 503. Of course There's nothing to boast about qualitywise, but I thought I'd share this with you all - and maybe try to come back to the museum later and steal uh no I mean take better pictures of the instrument... Not so easy with the window, front display etc but still worth the look for those infected with the virus :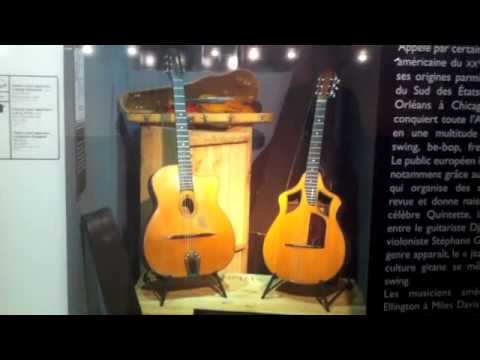 ps I added the pictures found on the museum's site, I didn't take these, and also note the presence of Stéphane's violin and that wonderful double cutaway UFO which Django plays in the 1932 Movie "Clair de Lune", formerly belonging to Matelo ferret hiself. That instrument's in good company !
Enjoy ze guitare, mes amis

"There's no business like shoe business"