an melbourne-made gypsy jazz guitar 2012
recently i got a strange call about a gig where i would just be required to play 1 or 2 django tunes .. it was a concert for a guitar school, where one of the makers had built a selmer/maccaferri type instrument. there were almost a hundred other guitars in the exhibition, a lot of interesting stuff (but this was the only gypsy jazz one)!
anyway after the concert the maker was kind enough to let me borrow the instrument for a week because my barault was in the shop getting bridge shim and some other repairs done. here's what it's like. not the greatest sound quality, i just recorded it on my phone.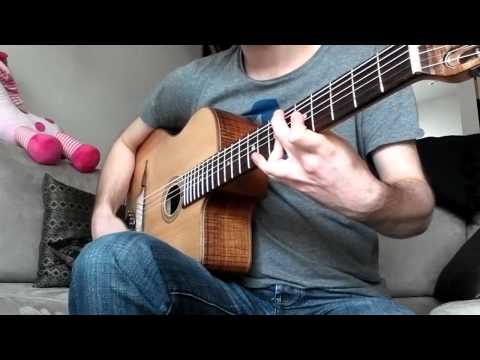 http://www.youtube.com/watch?v=p6ST8K6y0QI
http://thomaslloydguitars.com.au/
the guitar is all made out of Australian tone woods but built in the selmer way (with pliage bent over a hot iron by hand and all that!). actually the guy even went to paris to buy the plans , tailpiece and tuners in person from RF charle ! he says it took 2 years worth of weekends to build, and he will be attempting a D hole later. anyway , it looks / plays / sounds like one .. not a bad first effort at all i think